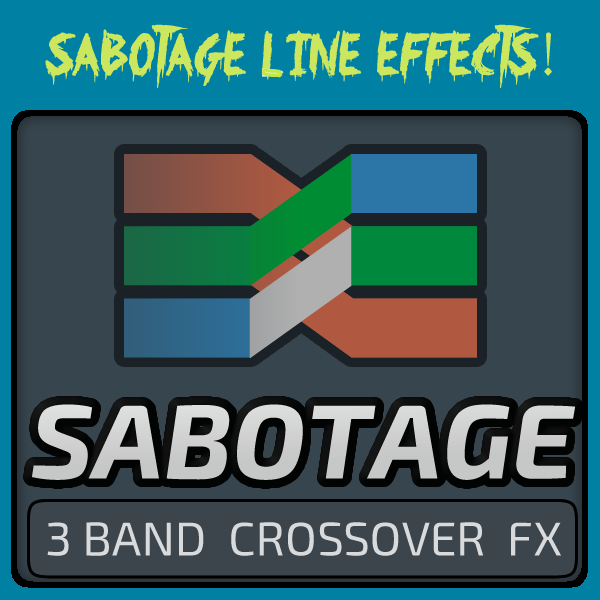 Introducing a new three band multiple FX Rack Extension.
The Crossover effect splits the incoming audio signal into three bands [Low / Mid / High] with frequency control and morphing.
If you connect any signal to the Main input and activate the Crossover section, you will have 3 bands. This classic crossover effect includes Low and High Frequency control for morphing around three bands.
SABOTAGE is a three band crossover effect that splits an audio signal into Low / Mid / High bands, sending the signal to the Main Output and individual 3-band outputs, but it's not just a crossover effect.
The main principle of the device is a 3 band crossover with band effects. Every Band [Low / Mid / High] includes its own effects allowing you to morph between these three bands and their effects.
The device also includes Break Inputs for additional incoming signals for each band.


All bands include their own effects: Multimode filter, Distortion with modes, Phaser, Chorus, Rotary effect, Delay and Reverb with Limiter and Transient.
Try SABOTAGE now in Reason Rack!
… Sabotage classic line effects!!!
Morph them in Bands!
MAIN FUNCTIONAL
• 3 BANDS: LOW / MID / HIGH
• Crossover effect for morphing 3 bands with Low-Mid and Mid-High Frequency control
• Each band include 10 FXs:
– Multimode Filter
– Multimode Distortion (TRANSISTORS, TUBE and analog SMD waveshaped model)
– Phaser with Sync
– Chorus
– Rotary Speaker Simulation
– Synced Delay
– Reverb with ROOM and Ambience (6 algorithms) controls
– PAN control
– Limiter (Maximze gain level with Limiter + Compression)
– Transient Shaper
INPUTS / OUTPUTS
Crossover splits signal to three bands (LOW / MID / HIGH).
Device include MAIN INPUT and MAIN OUTPUT, also you can use additional LOW / MID / HIGH bands OUTPUTS
Device include 3 additioanl Break Inputs. This inputs routed to MAIN and LOW/MID/HIGH outputs. You can use this Break Inputs to add some signals in three bands.
CV Inputs
Use CV inputs for effects modulation of device