Turn2on Meteora is a new software sample based synthesizer / rompler for Reason.
Meteora has quality sample based elements created with well known hardware synthesizers. These elements are presented as instrument lines. All these lines have a FILTER section. You can mix them and change the sound with the FX-Board section. The flexibility of our rompler with 14 effects can help you to build interesting sounds in just one minute! With Meteora you can build any kind of instruments, such as leads, bass, pads, beats and much more.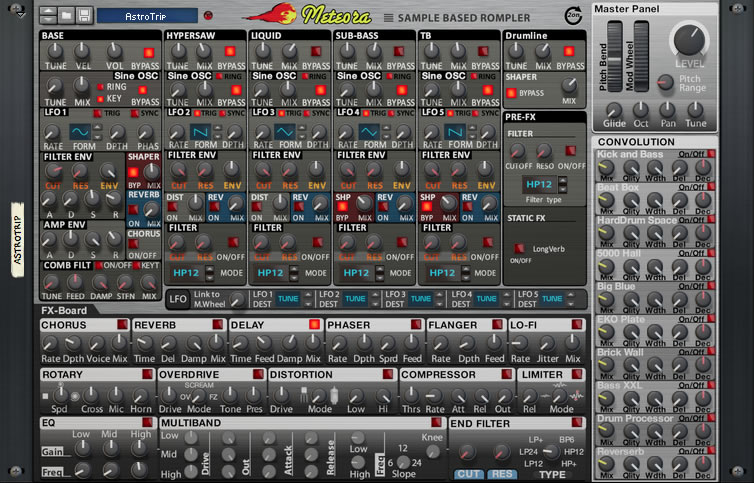 All You need with Meteora is a little time to experiment with sound. In the Convolution section we use 10 impulses. Quality Impulses emulate a few presets from well known hardware fx-processors. So, why did we call our rompler "Meteora"? It gives very quick results. Experiment with Meteora and open a new universe of sounds!



Meteora – Exclusive Rompler for Reason Propellerhead
Base Signal
We use a well known hardware analog synthesizer to generate a base-signal for Meteora. Additional sections have samples of analog and virtual analog synthesizers. We combine these into one small creative box as a rompler device.
Oh.. Samples? We call our device a sample-based Rompler, because the multilayered samples we used are just the base-signal. This signal is then routed through the filters and fx-sections, and can be mixed and tuned. The samples used give the Meteora Rompler its own character, that can be seriously modified to allow you to create new sounds.
LFO (base-signal) + SineOsc
In the LFO section You can select Waveforms and use them to change the base-sound. You can also select the "Sync" button to synchronize the base-sound in Beats with tempo-scale. GLIDE control, trigger, rate and phase knobs help you change the basic sound of the device. You can use additional SineOsc for better results with the base-signal of Meteora.
Filter LP24 (base-signal)
In this section we used a classic LP24 filter with ADSR. You can use the Shaper Drive control to shape the sound.
Amp (base-signal)
AMP section includes ADSR and Velocity controllers.
Instrument sections
HyperSaw: sampled Hyper waveform of Saw signal.
Liquid: sampled sound of Pad with Lead from very well known German VA-synthesizer.
Sub-Bass and TB: sampled bass sounds from classic '90s British analog synthesizer.
Drums: sampled one-shot kits.
You can enable and mix these sections with the base-signal. Every section has level knobs, cut/reso/env and tune knobs for creating variations of the base device sound. All samples are recorded as mono/stereo signals.
FX Board
This section includes 14 FX: Chorus, Reverb, Delay, Phaser, Flanger, Lo-Fi, Rotary, Overdrive, Distortion, Compressor, Limiter, EQ, Multiband, End Filter. Adjustable settings of the effect sections can create variations of sounds that You build.
End Filter
This is the last FX unit in the FX section of the device. Here You can choose the type of filter: LP12, LP24, LP+, BP6, HP12, HP+ and control the filter with Cutoff and Resonance. Note: LP+ and HP+ are controlled only by Cutoff (Resonance is not active). After the End-Filter, the signal is routed into the Convolution section.
Convolutions
Convolution section includes 10 emulated impulses from a few popular hardware fx-processors. Note: For better DSP level use minimum on the Quality parameter knob.
All of Meteora's controls can be automated.
Current version 1.0.1 contains 40 patches and 7 Combinators. More patches for Meteora are planned for future updates.